WTC MONTERREY OFFERS FREE BUSINESS COACHING ONLINE
World Trade Center Monterrey
To help the SMEs of our community during this difficult time because of COVID-19, World Trade Center…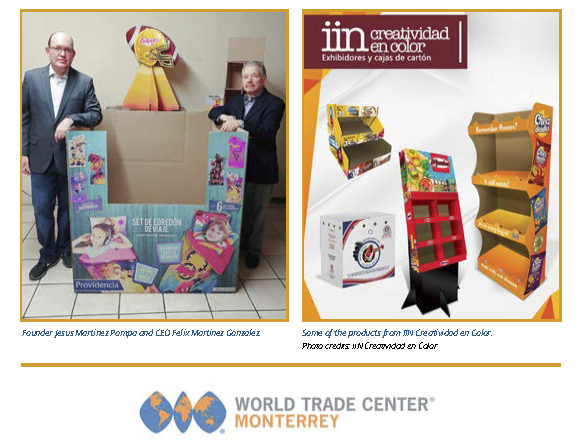 Name of the SME Member: IIN Creatividad en Color
Brief description about the SME: Based in Monterrey, Mexico, IIN Creatividad en Color is dedicated to the design and manufacturing of displays and corrugated cardboard boxes. Their products include floor displays, counter displays, gaylord boxes, trays, and pallet displays. With an in-house design team, IIN Creatividad en Color can help with new projects from start to finish.
When the SME was founded: 1981
How many employees work for the SME: 68 employees
The SME's most recent accomplishment: Due to its proximity to the U.S., better prices and quality, IIN Creatividad en Color has been able to enter the highly competitive US market
with great acceptance.
Any tips for other SMEs: Don't look for what to sell to your clients, look for what you can help them with.
Link to the SME's website: www.iin.mx
Fuente: Vol. 03 No. 05 – Meridian Magazine – May 2020 Issue
In alliance with an enterprise called Territorium which offers a digital platform for online trining and education, WTC Monterrey will provide free Online Training for SMEs, and the training will be available for all the SMEs in Mexico. The contents of this training will be provided by Pearson Education.